Printing estate agents leaflets and other popular marketing materials.
The majority of our estate agents leaflet printing is produced with the traditional 4 colour litho process.
It provides a quick and economical way to produce leaflets and flyers in volume and high quality and allows for a large choice of different paper weights and stocks. For shorter print runs, of say a few hundred copies on products like our Sold in your Road Cards, or 20 20 Door Drop campaigns, we would use digital print.
Comparing the different print processes, 4 colour litho v digital print
The majority of today print is produced using 4 colour process printing. The full spectrum of colours that make up images can be reproduced from the 4 colours, cyan, magenta, yellow, key (black) abbreviated to CMYK. It is a subtractive process since you start with a white sheet and subtract brightness from it by adding the CMYK coloured inks. The image to print is separated digitally with software into the 4 CMYK colours. You then have 4 different images made up of dots in cyan, magenta, yellow and black. When these 4 images are combined then the original image is restored. If you look at the restored image under a magnifying glass you can see the 4 different colour dots of CMYK.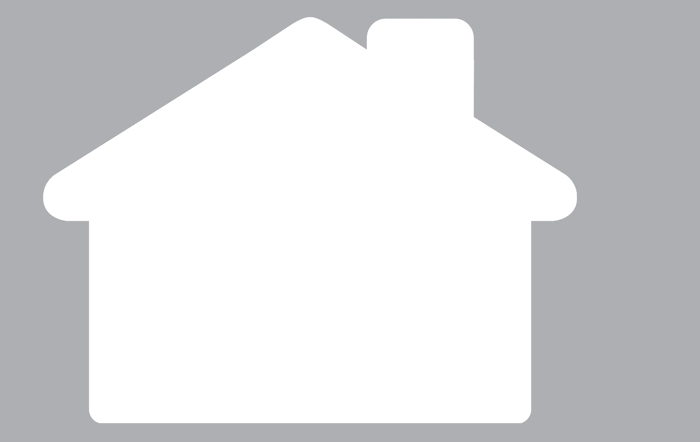 Cyan, magenta, yellow and black (key) printing plates combined
It's a bit like looking at the TV screen close up and you see 3 different colour dots the tv image is made up from, Red, Green and Blue (RGB) – except TVs and monitors use an additive colour system where all colours are made from a combination of Red, Green and Blue. 4 Thin metal plates are digitally made of the colour separated image, one for each of the CMYK colours. These metal plates will be fitted to rollers on the different colour units on the press.
The printing process
The traditional litho press has 4 different colour units on it, cyan, yellow, magenta and black. First the printing press needs to be set up, the 'make ready', when the 4 metal plates for each of the colour units for the new job are fitted and test sheets run through the machine check all is ok and colour levels are correct. If the colour levels are not correct they are adjusted accordingly and then the press is ready to print the job.
Sheets of paper pass through the press on a series of rollers, through the different colour units. The 4 metal plates with the image pick up the ink and impress the 4 images onto a rubber cylinder which in turn transfers the ink, one by one on top of each other onto the paper. These 4 different coloured images 'magically' recreate the original image.
Different size printing presses
Sheet feed presses come in 3 sizes, B3, B2 and B1. The B3 is a little larger than A3 (2 x A4 ) so there is space to print 4 different A5 estate agents leaflets at the same time. B2 is a little larger than A2 (4 x A4), space to print up to 8 different leaflets at the same time or 1 estate agents folder. B1 is a little larger than A1 (8 x A4), space to print up to 16 different leaflets at the same time, but we would use this more for magazines, brochures, catalogues etc. Products with multiple pages in them.
For the majority of our leaflets and flyer printing we would normally us a Heidelberg B2 press – it provides good flexibility, economical set up costs and the ability to generate good volume, with our typical estate agents orders being between 10,000 to 50,000 leaflets. With typical printing speeds upwards of 10,000 sheets and hour, 8 different leaflets on a sheet, that gives you capacity to print 80,000 A5 estate agent leaflets in an hour... But there is a little more to it than just printing, the finishing processes of trimming the leaflets out of the sheets and packing takes a lot longer.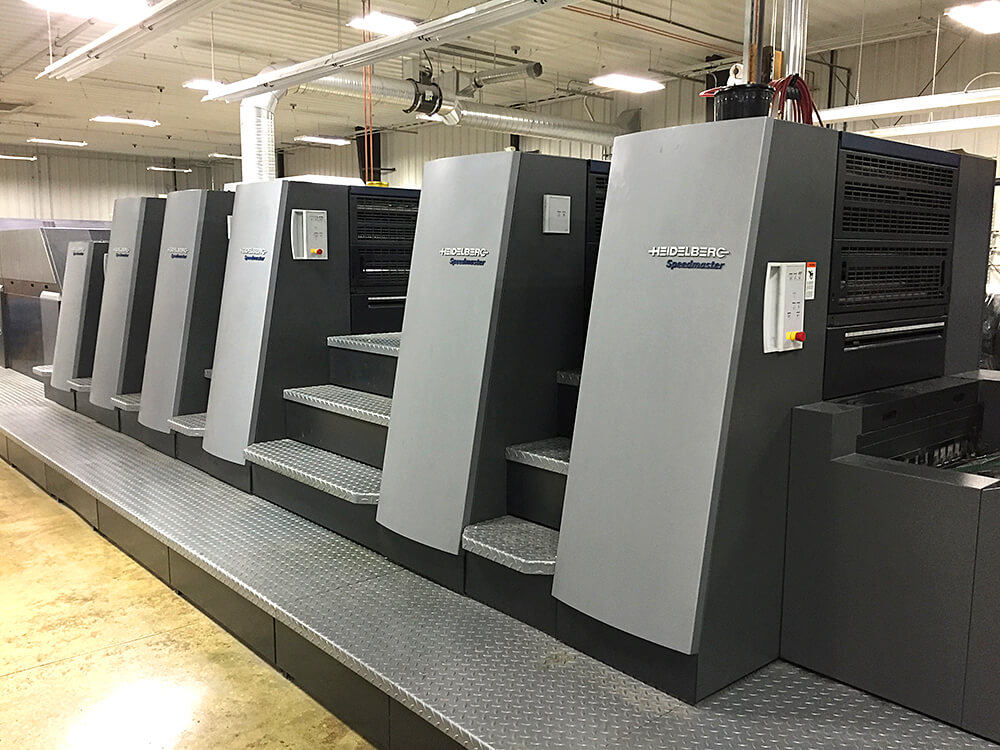 Heidelberg B2 press
The leaflet finishing process
With infra red drying units on the end of the press the printed sheets come out dry, and are ready for finishing. With the regular, straight edged leaflets, ie standard A5, the process is straight forward cutting out and trimming down in the guillotine. The 10,000 printed sheets that will trim down to 80,000 leaflets will take 1 guillotine operator just over and hour to trim and pack. Our standard leaflets (177mm x 150mm) on 300gsm silk weigh about 7g each, 10,000 pack into 5 full boxes and 1 part box. For A5 leaflets on 300gsm silk, the individual weight is 10g and 10,000 pack into 6 full boxes and 1 part box.

Leaflets being trimmed on a guillotine
Shaped leaflets
Shaped leaflets are printed on sheets just like the standard leaflets, but the difference is in the finishing. The guillotine only cuts in straight lines so to make the shape, we need to make a die. A form is made up with steel rules in the shape you want the leaflet to be.
Die cutting estate agents house shaped leaflets
The printed sheets are passed through Heidelberg cylinder with the die which 'punches' out the leaflet shape from the sheet. It does not completely punch out the shape – there are few little notches left which are there to keep the leaflet within the printed. Without this notch the leaflets would fall out the sheet so they would go everywhere and jam the machine. A machine has not yet been made that can manage this, instead the few notches keep the leaflet on the sheet and have to then pass onto an additional process of 'stripping out'.

Stripping out the leaflets by hand
This is still a manual process where a person will take around 30 -40 sheets at a time and manually push out the leaflets from the sheet and pack into a box. It is a slow and tedious manual process. 10,000 shaped leaflets can take 2 hours to strip out of a sheet. Compare this to straight edges guillotine time of 15 minute for 10,000 and you can see why shaped leaflets are more expensive the than standard straight edged.
Other leaflet finishing processes – lamination
Our standard leaflets are printed on a 300gsm silk coated paper, no other finishes are applied and for the vast majority of our leaflet printing this is what is required. Additional finishes are available, at extra cost and when it comes to estate agents leaflets these extras are not often asked for.
Matt Lamination: This is type of finish you might find to a menu in a restaurant or a business card.
Gloss Lamination: For a high gloss shiny finish.
Soft-Touch: Just as the name suggests, it provides a smooth velvety feel, great for business cards, can be a bit pricy on bigger items like estate agent folders.
Summary of 4 colour litho printing process
Set-up costs: There are large set-up costs for each job which primarily include 4 sets of metal plates, time to set up the printing press ('make ready') and some running waste.
High quality printing: Quantities – good on volume runs and fast.
Flexibility: With the big choice of paper stocks a huge range of products other than leaflets can be produced including stationary, folders, packaging etc. More papers . big choice of different paper substrates uncoated, silk or gloss finish with paper weights ranging 70gsm to 600gsm
Digital printing: As wonderful and flexible as the 4 colour litho process is when print numbers are small, the the set up costs and times do make unit print cost high on small numbers. So when this happens we would look to use digital print. Examples of products. Sold in your road, 20 20 cards (elaborate), sold in your area cards. Gift vouchers, greetings cards (welcome to your new home cards). Digital print has progressed enormously since its begin beginnings which was such a short time ago in the 1990's. Early digital print really looked inferior to litho but it has improved massively over a relatively short period of time and on some jobs now it can be quite hard to tell the difference.
Printing plates are not required in digital printing which gives quick turn around and low set up costs – ideal for short run, 20 20 cards or sold in your road estate agent leaflets where maybe only 50 to 200 might be required. Some Xerox machines are toner based, others like the HP Indigo use a liquid ink. They require special paper stocks that are designed for digital print and there is not so much choice as in the litho market. In most cases they work fine but when it comes to short run letterheads and comp slips, we have tried outputting them on a digital press but the coating on the digital stock gives them a feel you do not associate with a letterhead so we tend to avoid outputting stationary on the digital press. Another difference on the digital press compared to the litho is the resolution – how many dots per inch it prints to. With the litho we are at 300dpi, the digital is more 180dpi to 220dpi. This can be more noticeable on graduated tints. I do recall a particular problem on business cards with small text in grey (a tint of black). It did not work at all and the job had to be reprinted on a litho press.
Digital has a much more limited choice of paper stock and the maximum thickness you can go to is around 350gsm.
Full personalisation of print is one of the great benefits of digital print if you really want to target to marketing materials i.e. names individuals or specific companies can be included into a document one at a time by merging a database.
Comparison: The digital press has its place, and for many jobs it would be the preferred method to print because of the low set up costs it's great for short runs, personalisation with individual names and addresses and for speed. As they get better and cheaper to run so they start pushing into the litho market.
For the majority of our estate agency marketing materials we do use litho. Estate agents leaflets are usually required in some volume and there is no comparison with the economies offered on a 10k run. Estate agent folders we now standardise on 400gsm and it requires a large B2 sheet size so paper weight and size put it out of the digital range.
If you would like to discuss any of these points further then please call us on 01234 290442.